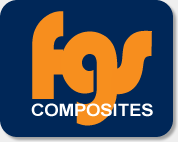 Where ideas become reality!
MOULD FABRICATION
FGS Composites creates and constructs their own patterns and associated moulds for fibreglass components..
In mould fabrication there are plenty of choices available to our customers. These may range from rigid to soft moulds, single part or multi sectioned moulds with inserts for a variety of application systems.
The design of a mould depends not only on shape and size but the production process for which it is intended. For example a hand lay up mould requires no big flanges but RTM light moulds need large flanges such as those used for vacuum clamping.
RTM Light Moulds require an A Mould and a B mould (inner). These offer greater advantages as the fibreglass product is smooth on both sides. It is environmentally friendlier in that the process does not require massive production runs as opposed to other systems.
With this in mind we like to be involved right from the beginning of the design concept, formulating solutions that are advantageous in the manufacturing process with regard to material and production costs. We assist with design, flow analysis, vacuum settings, the best release system, temperature settings; we can even build temperature controlled moulds.
The specialty moulds in a soft medium are constructed by casting under vacuum or laminating by hand depending on the applications required and the estimated quantity of fibreglass products. We utilise different silicones and urethanes for different processes including, on occasion, latex rubber for concrete castings.

In conclusion, every mould has its own particular characteristics dependent upon the shape required and how many fibreglass products are expected from it. Finally we take into consideration the costs of manufacture, maintenance, storage and handling and the production system used when determining the technology to be used.

Call FGS Composites today to see how we can help you!
61 7 4121 0788